​"Thank you so much for your inspiration. Without you I would not be where I am today, totally in love with saxophone and music. I am so grateful you were my first teacher."
Thank you, Hailey Niswanger
New York Saxophone Recording & Touring Artist
​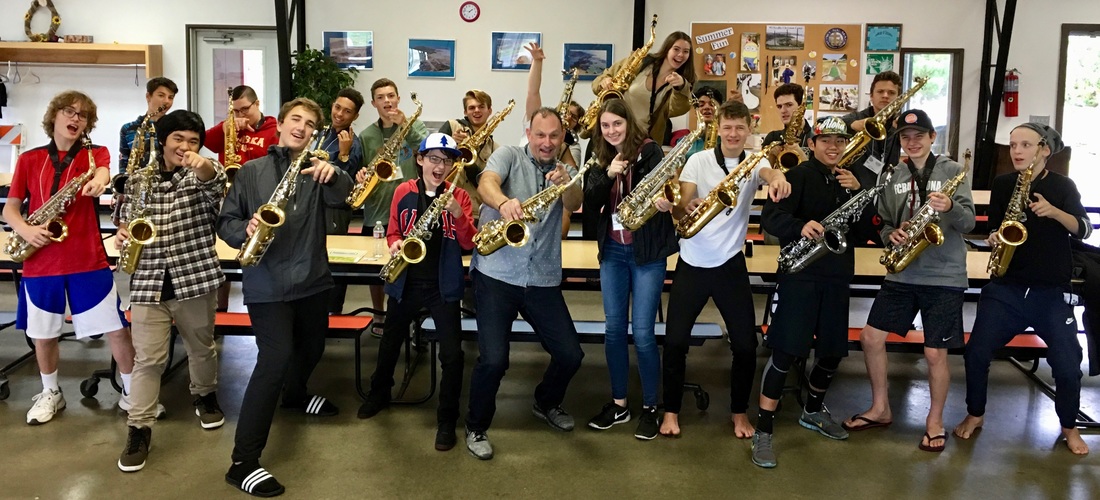 Winter Term

2017

Includes:
13 lessons, 1 saxclass, 1 recital, & daily practice & stellar attitude required.
January-April 1st Week
The Studios operate on a Flat Fee System. This means that you pay by the term or the deferred payment plan, not a monthly or per lesson fee. This means that there is one fee for the term regardless of holidays, cancellations, illness, or how many weeks there are in a month. If you have not paid by each deferred date, you will be charged a $10.00 late fee. You will receive the number of lessons listed by terms end. Most months you will receive four lessons, some months you may receive five, some months only three. If you miss a lesson due to illness, or scheduling conflicts you will not receive a make-up lesson or refund.
It is important for you to plan in advance. First of all, try to schedule your lesson at a time during which conflicts are less likely to arise. If something does come up, try to trade lesson times with another student. I will keep you supplied with my current schedule of students' names, times, and phone numbers. If you are ill you could offer your lesson time to the student in an adjacent time slot. The favor could then be returned when needed or desired by the other student. Plan in advance.
If someone asks you to trade times one week, please make the trade (if at all possible). If you make a trade, call me at least 24 hours in advance. I appreciate being kept informed of who I will be seeing on a given day. If you are unable to make a trade and need to miss a lesson, still let me know as soon as you know. This might allow someone else who is having a conflict to make their weekly lesson. Don't leave me wondering where you are: This is called a "No Show" and is very rude. Two No Shows per term will jeopardize your contract being renewed the following term. I will do my best to accommodate a change midyear, but I cannot guarantee it will be possible.
Private study is a privilege and a serious investment; it is also a time to develop discipline, responsibility, and integrity in young individuals. It is my philosophy that I am not just delivering a curriculum to a student; but am teaching a person about life via the study of music, and the relationship that can develop between mentor and disciple. I am dedicated to the pursuit of excellence in my teaching and encourage my students towards the same in their learning. Therefore, I think you will agree that the steps I have taken to encourage commitment in music study are necessary in order to get the most out of a student's endeavors in any discipline.
Winter Term
2017
Fees Reduced Rates
Term Payment: 30 min. $440.00 45 min. $635.00 60 min. $830.00
(3) Deferred Payments: 30 min. $157.50 45 min. $228.00 60 min. $298.00
Individual Lessons & Online Lessons available at Standard Rate of 30 min. $33.00, 45 min. $49.75 60 min. $66
*$40 Lab Fee for New Students includes Musikai Notebook, Recordings & Practice Trax
The email registration acts as a binding contract per the agreed verbal specification of the aforementioned parties only after your check is received.
Make checks payable to Clark Bondy
and mail to:
Clark Bondy
1860 SW Kings Byway
Troutdale, OR 97060
Registration is conducted via email each term.
To register for lessons mail in your payment and email your requested day & time to clark@clarkbondy.com
Musikai Winter Term Recital
time and date TBASaxclass time and date TBA.
Schedule for Winter Term
2017
:
Tuesdays 3:00pm-7:30pm
Wednesdays 3:00pm-7:30pm
Thursdays 3:00pm-7:00pm
Friday Afternoons, Saturday Mornings
Other times possible by request
Gresham Studio Location:
Lessons are located at the Phonics Phactory Campus (PPS)- 3333 NE 8th Gresham, OR 97030
​(one block south of Division and Kane (267th)